If you are looking for the right coziness and the much-needed warmth, there's no beating a fluffy duvet or a soft comforter.
They are regarded as the best bedding for guaranteed coziness that you can have for years to come.
However, there are many out there who do not know the difference between a duvet and a comforter.
So, what's the difference between a comforter and duvet?
And most importantly, which is best for you duvet or comforter?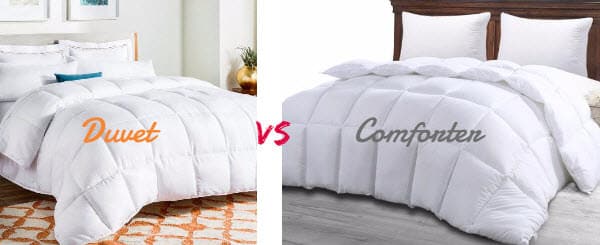 Here, we have come up with Duvet vs Comforter Difference to show you which is best for you.
However, we must state that choosing either a duvet or a comforter essentially depends upon your style or your lifestyle.
Each of these options does offer ample warmth coupled with many other benefits.
So, let's get down knowing them better which is certainly important to you.
Here are the basics of duvet and comforter for you.
What is a Duvet?
Duvets are ultra-plush quilts that are usually filled with down, feathers, or synthetic fibers.
Typically, duvets look like a big, fluffy sack and may feature quilting in a channel or box pattern.
Duvets are designed with a minimal amount of hangover on the bed that gives them a modern look. They are usually made in white or beige as these light, and neutral covers easily disappear under duvet covers.
Yes, duvets come with protective covers that are available in a wide variety of colors and patterns. Just think of a pillow with its pillowcase, and you have the basic idea of duvet and duvet cover.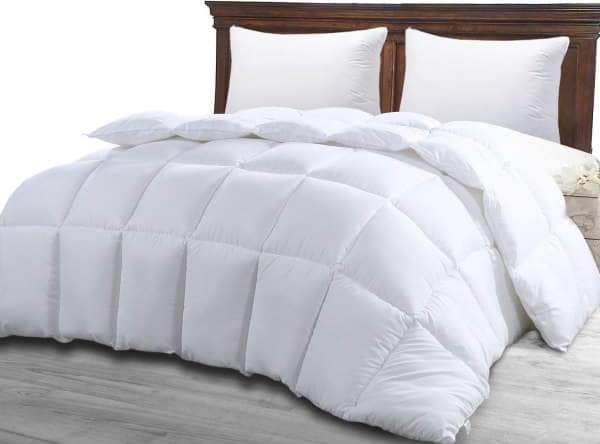 Duvets are much popular with people because they are warm and surprisingly lightweight. Plus, they come with removable covers enabling you to change the look of your bed without having to invest in a new duvet.
Also, it is not required to use a top sheet with a duvet. So, you can easily do away with a number of layers for completing the overall bedding ensemble.
Moreover, duvets are more popular in Europe than in the U.S. giving you the opportunity to make your bed in European style.
In fact, it is believed that duvets originated in Europe.
Moreover, the word "duvet" in Old French means "down" as down feathers were being invariably used as duvet fillers.
In 1835 children story The Princess and the Pea by Hans Christian Andersen, it has been mentioned that the princess rests on a bed filled with duck feathers. So, it's possible that duvets were in use long before this time.
Some sources even claim that Chinese were using duvet-like covering as far back as 3000 B.C.
What is a Comforter?
A comforter is a thick, quilted, and fluffy blanket that is used for keeping you warm.
It is typically filled with synthetic fiber filler that is usually quilted or stitched for securing the filling and for keeping it evenly distributed.
It usually sits on top of your sheets and offers a layered look to your bedding. Unlike a duvet, a comforter forms one piece of all of your bed linens.
Comforters have been derived from the word "comfort." They first became popular as a bedding choice in the 19TH Century and have been in use ever since then.
Usually, the comforter is made with two layers of material that are stitched together and filled with synthetic fibers, down, or feathers.
However, unlike a duvet, a comforter is less thick and fluffy as it contains less fill. It is for this reason that a comforter can become flat more quickly than a duvet.
Having said this, many people like comforters as they don't require covers. Moreover, comforters are much decorative in their right.
They usually come as part of a pre-coordinated "bed in a bag" ensemble, so they are often viewed as "don't-miss" choice for the aesthetically challenged.
Comforters come as a perfect choice for those who want a layered look for their bed. It can be placed on a top sheet, and it can also be used on top of a blanket for extra coziness and warmth.
What is a Duvet Cover?
Here's the duvet cover definition for you.
A duvet cover is like a protective sheet that goes on to encase the duvet keeping it neat and clean.
Duvet covers can make it very easy for you to refresh your décor.
You just need to swap out the cover, and you can have your duvet with a whole new look. Using a duvet cover is like topping your bed with a decorative second sheet.
So, what makes a great duvet cover?
Yes, the looks do play an important role.
However, there's more apart from the looks.
Go for the one which has practical features for keeping your duvet securely in place.
Choose a duvet cover that helps your duvet stay put and offers an unfussy, button-style closure. Then, an ultra-precise fit is also important as it makes easy for you to toss it on the bed without worrying too much.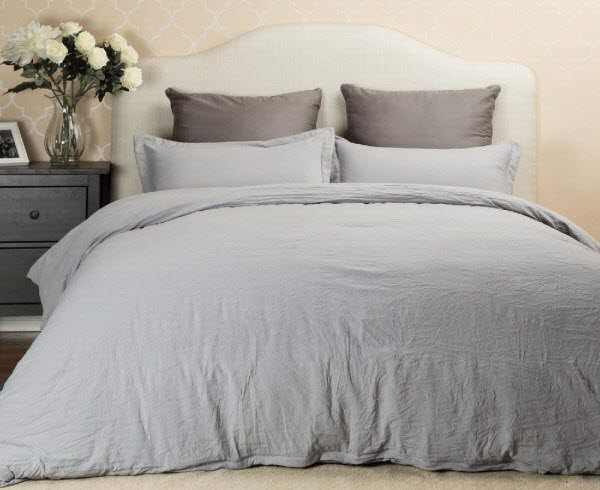 What is a Comforter Cover?
Well, it's a trick question indeed!
Technically speaking, there is no such thing as that of a comforter cover.
In fact, if you have a comforter, you don't need a cover.
The comforter is already made with the decorative material, and you can keep it on your bed.
However, you can put a duvet cover over your comforter, in case you wish to update the look.
But the size may be an issue.
Comforters are usually bigger than duvets.
Moreover, duvets tend to be much fluffier.
So, when you use a duvet cover for your comforter, it looks overstuffed in its cover. It may even swim a little.
Hence, be careful when you use a duvet cover for your comforter.
Now, that we have briefed you about duvet vs comforter, the difference between duvet and comforter, it's a time when we consider some important questions about how you live, sleep, and decorate your bedroom.
Hereunder, we take up some very important questions related to comforter and duvet sets.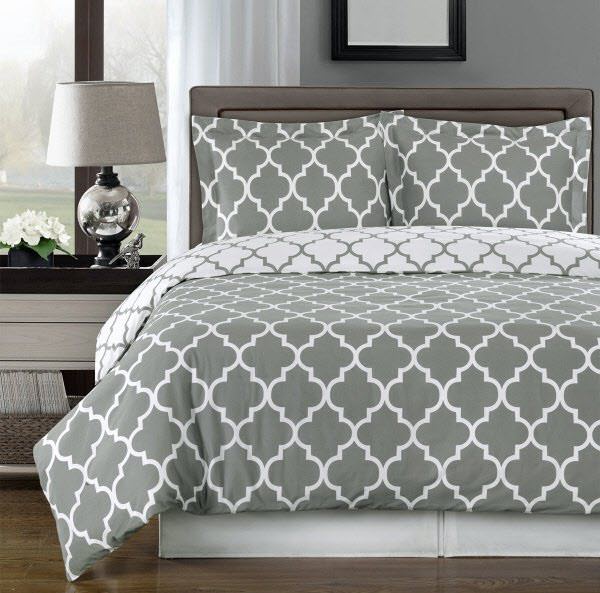 Do you like to make your bed as quickly as possible?
If that's the case, then a duvet is for you.
A duvet can be used without other layers. You can even let go the top sheet.
On the other hand, a comforter requires some extra work.
You have to use a flat sheet and a top sheet, at a minimum.
You may even need a bed blanket or other layers for extra warmth.
Do you like to switch up your bedding look?
A duvet provides the option of a duvet cover.
So, you can easily change your bedding without having to invest in multiple comforters.
You can go out and shop for a selection of duvet covers. You can swap them seasonally or when you want to refresh the look of your bedroom.
In case you opt for a comforter, you go on to commit yourself to a specific design and color palette for a long time.
Is fluffiness factor important for you?
If fluffiness is an important factor for you, then a duvet can be the right choice for you. It offers a maximum decadent, sink-into-your-bed level of squishiness.
Duvets are made to be ultra-plush. On the other hand, a comforter is a less fluffy option. However, it can still feel good soft and cozy.
Do you prefer the ease of washing?
A duvet cover can be easily washed about once a month. A duvet cover is a large sheet and is less bulky and easier to wash than a comforter.
Moreover, you can go several years without cleaning a duvet, as it never touches anything except the inside of its cover.
On the other hand, a comforter does not come with the duvet's protective outer layer. So, you need to wash it monthly or seasonally.
Do you have ample storage space for your bedding?
If storage space is not a problem for you, then you can amass a collection of beautiful comforters in different patterns and colors.
However, if space is at a premium, then a duvet makes more sense. A duvet can stay in your bed year-round. Moreover, the storage space can be used for holding different duvet covers, each of which only consumes little more space than a sheet.
Do you like natural or synthetic fibers?
Well, both duvets and comforters are available in natural as well as synthetic fibers.
Now, we come to the most important question:
Duvet vs Comforter – which one is best for you?
Finally, we are here to answer the most important question – should you use a duvet or a comforter?
Probably, you would have figured it out already.
However, to make it explicitly clear to you, there's no one right answer to this question.
Duvets are fluffy. They make it easy to switch up your bedding. And they are easy to clean.
However, there are still many people that love comforters for their sheer simplicity, a wide range of colors, and different patterns.
They are plenty warm and feel cozy. You can even layer them with a throw or a bed blanket for having a traditional look.
Now you know everything about a duvet and a comforter.
The presentation will make it easy for you to choose the best option that you truly love. We hope that the post serves you in the best possible way.
If you liked the post, please go on to share it with your friends and loved ones. We welcome your comments and suggestions.